E-commerce market is becoming more competitive day after day. Now, what is more important for shopping platforms to maximize their sales potentials, provide better customer services and user experience? Here, we are going to share details of some of the best ecommerce platforms of 2022 that will be effective to provide you with maximum benefits in the time to come. No matter, whether you are planning to open an online store or going to accelerate the growth of existing e-commerce platform, there are various platforms for the most different needs.
Know About the Ecommerce Platforms
Called as backbone of online retailing, eCommerce platforms are the most vital combo of tools and software system to launch, host, and manage online stores in convenient way. You will get amazing features of such platforms – allowing merchants to build amazing online storefront to locate and sell their products and services. Such additional software systems and tools with backend functions provide a better experience. These backend functions can be inventory management, customer services, order management, accounting and a lot more that are accumulated to create a complete platform.
Why Should You Look for the Best Ecommerce Platforms for Your Business?
There are a number of features that will surely keep you surprised like:
Offering a complete customer view
You can run a single and unified platform
An advanced order management in a planned way
Superior customer experience and supporting infinite expansion
Security to keep your site protected from hackers and unwanted uses
You can easily create content and manage a product management suite, merchandising, search capabilities, pricing, promotions, and personalize sales and services to your preferences.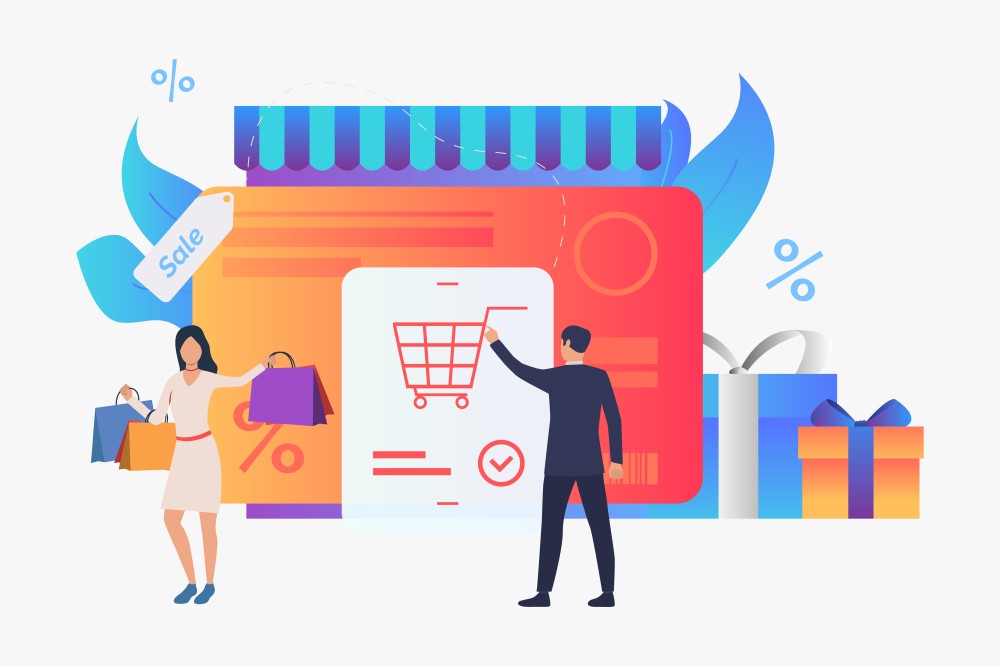 In order to ease the process of choosing the best tools and ecommerce platforms, we have come up with the list of best ecommerce platform for 2022 with their detailed information. Here are some of the best platforms on the market and equipped with amazing features and options that will surely leverage your sales in significant way.
Shopify – One of the Most Popular Ecommerce Platforms
Being an advanced web application, shopify helps you creating an online store quickly and in easy way with a considerable number of templates. One of the plus points is that you can customize templates according to your requirement – mainly according to the online retailing needs or as per your store type. In addition, you don't have to focus on technical or design experience to create a beautiful online store. From payment in secure way through credit cards to security standads (Level 1 PC1 Compliance and 256-Bit-SSL Encryption) to full CMS, you will get amazing features. Shopify allows users to manage store on mobile apps. It is fully responsive that helps users to track, manage and modify their store easily.
Yo!Rent – Leading rental eCommerce Platform
Yo!Rent is a rental eCommerce platform equipped with an extensive range of  rent-centric features like rental security management, later return/cancellation charges, document verification, product inspection and rental addons. All these features are important in an online rental business, which involves different variables like rental period, start date, end date and rental security. For the B2B sector, Yo!Rent rental software comes with a Request-for-Quote module, used for managing complex bulk orders. Regarding the design of the platform, Yo!Rent is available in three industry-specific designs that help entrepreneurs launch a business in equipment rental, automobile rental and dress rental niches. Scaling a rental business from startup to enterprise level is also a smooth transition with Yo!Rent's unlimited listings, transactions and user profiles.
Magento – The Most Used eCommerce Platforms in the World
Magento has come up with advanced version – Magento 2 that has truly taken this ecommerce platform to a higher level – providing effective solutions for B2B ecommerce Firms. Some of the added features that you will get from Magento include versatile content management, mobile-friendly configuration, advanced search engine optimization, sturdy and spacious, and flexible 3rd Party integration. Customizable security permissions, time-saving and money saving options are also provided to you that will be a plus point. One of the plus points is that basic version of Magento is free; while enterprise version is paid and costly.
Yo!Kart – An industry-leading multivendor marketplace software
Yo!Kart is a turnkey multivendor marketplace platform to build online marketplaces like Amazon, Etsy, Alibaba, etc. It is one of the most popular eCommerce software and is fully customizable to cater to unique business requirements. On the plus side, Yo!Kart comes with a complete shipping management module, tax management system, abandoned cart recovery management, and much more. There is an individual vendor storefront, separate dashboards for admin/seller, more than 20 payment methods including Pay at Store, and many popular third-party APIs pre-integrated. On the downside, there are no additional themes and first-time users should invest time to learn the system. All things considered, if you wish to start an online marketplace for B2B, B2C, B2B2C, or even P2P then Yo!Kart is your solution.
Template Monster – Game Changer Ecommerce Platform
With amazing website templates, Template Monster has more than 120,000 digital products – mainly designing solutions for all ecommerce platforms. It offers you friendly customer support along with hosting, graphics, services and a lot more. You will get reliable product support, first-class quality, wide variety of designs for all niches and purposes, advanced features built-in and a lot more.
3DCart – Powerful and Secure Ecommerce Software
This amazing ecommerce platform is helpful for online merchants to build their online stores and increase their sell in significant way. It comes with more than 200 built-in features; while you will also get approx 50 themes for free. Not to mention SEO options and supports to more than 100 payment processors. You will also get amazing features, mobile-friendly themes, latest SEO standards, marketing ecommerce tools to make your store convert higher and increase conversion rate. Some of the added features include an optimized ecommerce store with customizable features, customer-friendly website, synchronized, secure and scalable.
WooCommerce – A Free WordPress Plugin
Being a free WordPress plugin, WooCommerce enables merchants to turn their WP sites into online stores. Some features are free; while paid features will surprise you along with integrating options to streamline the functionality of the shopping cart. It is an open-source platform – ideal solution for small brands with WordPress development resources that are easy to customize and provide you a secure payment option.
BigCommerce – Leading Cloud Ecommerce Platform
BigCommerce provides users with a complete set of ecommerce tools with a variety of features and options – enabling your store to integrate out-of-the-box with amazing solutions. It is ideal for both dealing in B2B and B2C to create different price list and catalogs to different customer groups.
Salesforce Commerce Cloud – A Well-Known CRM Solution Platform
It is known for offering you amazing CRM solutions. It is a cloud-based e-commerce platform tailored to both B2C and B2B merchants. It integrates different CRM and marketing services that will help you grow your business and build a good customer relationship.
Apart from the aforementioned Ecommerce platforms for 2022, you can also try some more platforms like SquareSpace, Yo!Kart, Volusion, Prestashop, Wix, QuickeSelling, and a lot more. Choose the right one as per your ecommerce website needs and customization options and you will surely get a change in your website. Getting services from a selected ecommerce website design company will surely help you providing with better ways of getting your website designed and optimized it well to increase sells.