Most of our clients of Inside Sales Teams do use Salesforce's High-Velocity Sales (HVS). It's a large new feature set that will be accessible in the Spring '20 Release and is primarily targeted at Inside Sales Teams. Inside Sales professionals' efficiency and effectiveness have significantly improved for these customers. It's Salesforce's High-Velocity Sales (HVS) addresses two major issues that almost all Inside Sales Teams face. For starters, it allows teams to plan, manage, and record the series of events and responsibilities associated with every Lead or Contact. Second, High-Velocity Sales enables members of the team to effectively plan their duties and allocate their time. As a result, High-Velocity Sales (HVS) enables Inside Sales Teams to communicate to potential leads in the most effective and timely manner possible. This Salesforce vlocity Training tutorial will teach you all you need to know about HVS.
Let's go through them in detail.
How Salesforce High-Velocity Sales Helps Your Inside Sales Team Achieve Better Results
This comprehensive guide is for you if you're trying to set up or lead an Inside Sales Team and would like to learn all there is to understand regarding High-Velocity Sales (HVS) in Salesforce.
1 – The Issues Solved by High-Velocity Sales
Thousands of leads are often in play for most Inside Sales Teams at any given time. Such leads originate from a variety of places, comprising contact forms on the website, webinars, ebook downloads, online platforms, or even purchased listings. Inside sales' job is to convert such leads to sales-ready prospects. Inside sales are also crucial in many firms for establishing and maintaining ties with key accounts. For example, the team frequently assists field salespeople by identifying and cultivating relationships with previously unrecognized partners who affect the purchasing process. As an outcome, the team is up against two major obstacles. The effectiveness of the team in offering sales-ready opportunities is determined by how well they manage these obstacles.
The Inside Sales Horizontal Challenge
The very first challenge is deciding on the best activity sequence for every Lead. A lead who takes out a 'Get In Touch With Sales' web form, for instance, is most likely prepared for an urgent qualification call. Participants may not be prepared for a post-webinar sales qualifying call right away. However, LinkedIn contacts, instructive emails, voice calls, or even social media interactions may be the most efficient method.
In other ways, the appropriate set of events for leads entering Salesforce from diverse sources, platforms, and marketing strategies is likely to be varied. It could also be distinct for leaders from other cultures and countries. We can call it the Inside Sales Horizontal Challenge.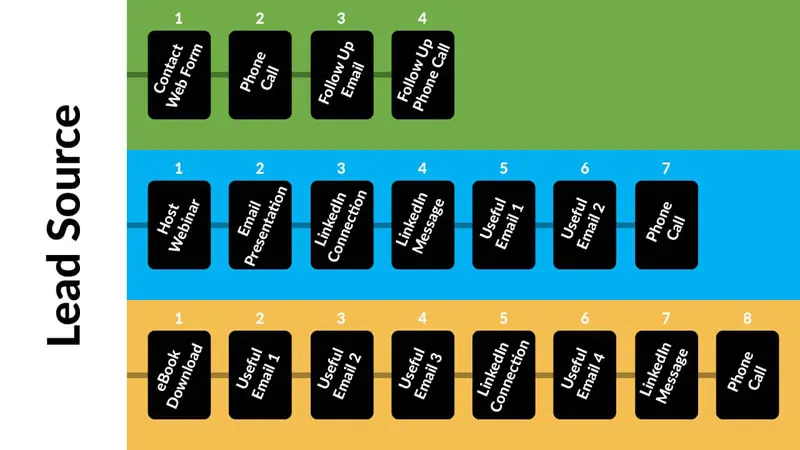 The challenge with Inside Sales is that it's difficult to follow a set of actions that apply to each type of lead consistently. Because High-Velocity Sales parties are involved in pre-define task templates, it overcomes this problem. Such templates are task patterns that they must complete with leads from other organizations. Such sequences are referred to as 'Sales Cadences' by High-Velocity Sales.
The Inside Sales Vertical Challenge
There seems to be no standardization as far as how everybody maintains track of their actions in so many Inside Sales teams. Salesforce tasks are used among members of the team. Others take advantage of Outlook tasks. There are also a lot of Excel spreadsheets & Google Sheets. The issue is this: how well does every group member stay abreast of the conversations, emails, LinkedIn contacts, as well as other tasks that they need to complete today or even this week? We can refer to this as the Inside Sales Vertical Challenge.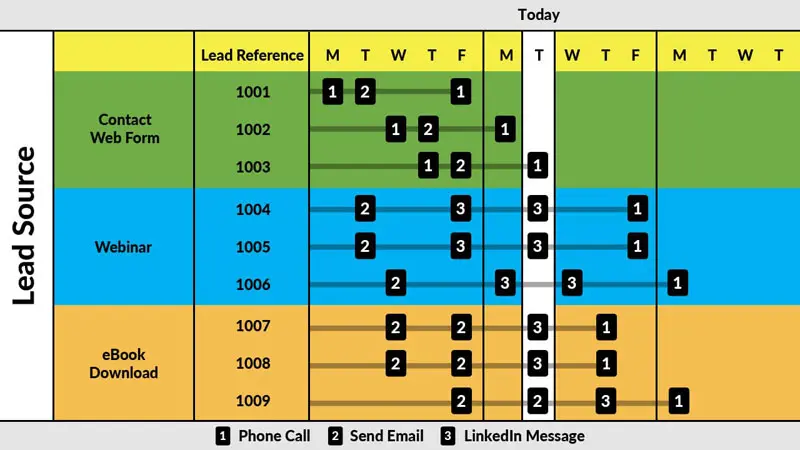 As you add additional leads to the pile, the problem becomes more serious. The Lightning Sales Console as well as Work Queues are used by High-Velocity Sales to overcome this problem. These capabilities provide team members with a secure and trustworthy way to examine planned tasks for numerous leads and contacts. It implies that organizations can know what they need to do immediately, in the week, or those that are past due immediately. Furthermore, High-Velocity Sales assists Inside Sales in performing the tasks. Since it comes with email notifications, layouts, call scripts, & Einstein Activity Capture, this is the case.
2– HVS Sales Cadences
Sales Cadence is a vital topic to grasp in High-Velocity Sales. Those are essential components of HVS. Sales Cadences are pre-determined communications activity patterns for leads/contacts who match certain criteria. Effective communication can incorporate conditional logic & responses, regulations, and listening components in every cadence.
Such actions are frequently used by Inside sales teams to make connections with fresh leads and certify them as sales-ready potential. You could have a Sales Cadence for customers who download an eBook but aren't ready to talk to a salesperson just yet. Emails with compelling content, LinkedIn contacts or chats, and phone calls informing prospects of an approaching webinar are examples of this cadence. Attendees of webinars may also be linked to a Sales Cadence. The sequence of events and duties for those who participated is defined by this cadence. No-shows may be subject to a different sales cycle.
Lead Nurturing vs. Sales Cadences
Marketing automation technologies including Pardot / Marketo are often used by firms with Inside Sales staff. Advanced lead nurturing capabilities are provided by these solutions, which are mostly centered on email marketing. The user who downloads the eBook, for instance, might receive 3 emails with links to additional relevant content. An automated email option is also included in Sales Cadences. There will be more on this later. The primary distinction between marketing automation technologies & HVS Sales Cadence would be that the first concentrates on sending pre-defined mails while the latter does not.
Sales Cadence can contain automated emails, but it could also comprise jobs that involve human involvement, such as making a call as well as initiating a LinkedIn connection request. Remember that marketing automation platforms come with extra features like landing pages, generating leads, and advanced email response analytics. As a result, most Inside Sales teams would combine the two toolsets to improve their lead nurturing and certification procedures.
Let's look at the three major components of HVS's Sales Cadences: Actions, Rules, & Listening.
Actions
A Sales Cadence can contain up to four different types of actions:
1. Pick up the phone. Give the client a call. That Action can be linked to a Call Script.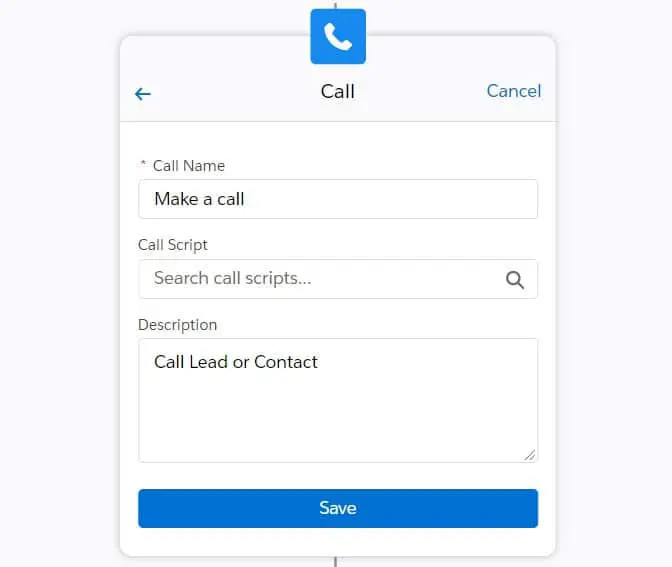 2. Email. Send a message through email. A manual or automated email distribution can be used for this Action. Throughout this step, email layouts are used.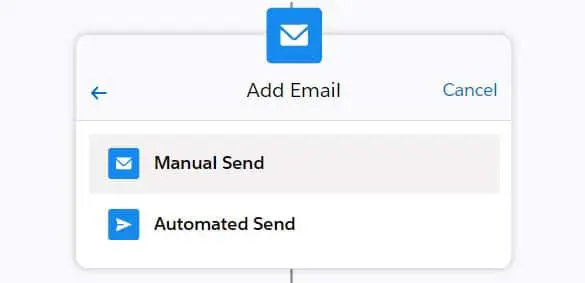 3. Custom Step. A custom step would be 'Send LinkedIn Connection Request.'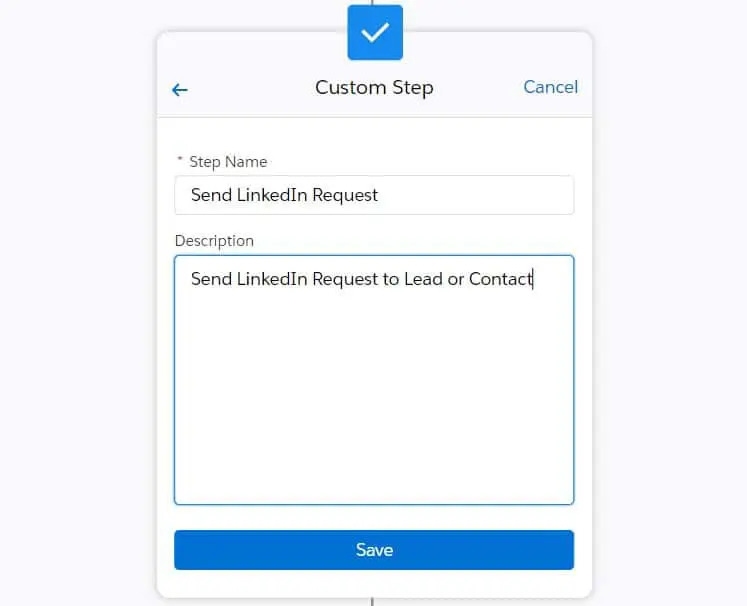 4. Sets the amount of time that must pass before the following Action starts. Include a Wait component of 3 days here between two Email Send Actions, for instance, if you wish to contact a client once every three days.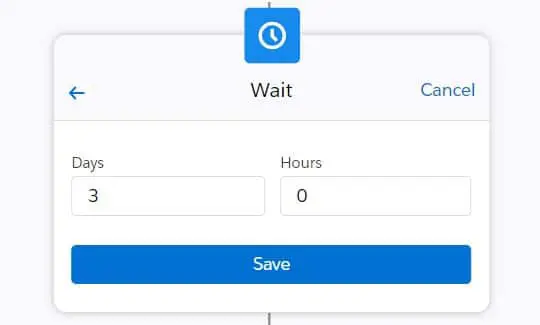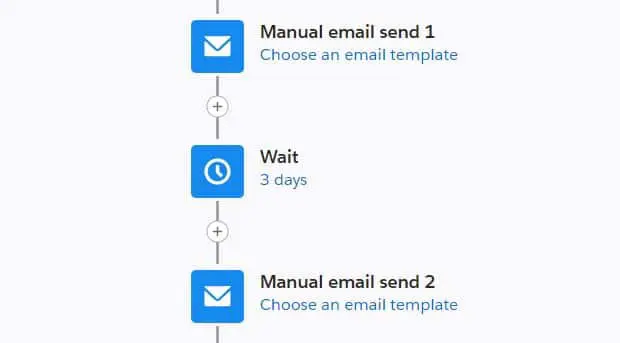 Rules
Inside the Sales Cadence editor, there is just one Rule Element. 'Call Result' is the rule in question.

When Inside Sales records a call, the Call Result field indicates how the conversation ended. Was the dialogue, for example, good or negative? Did the person pick up the phone or did it go straight to voicemail? This data is saved in the Call Result field.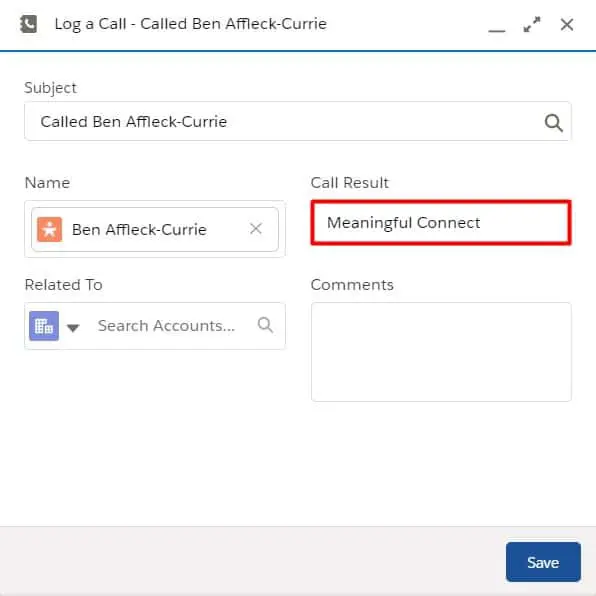 The Call Result affects the route the Lead takes in the Sales Cadence when Inside Sales logs the call. And here is an example of a "Meaningful Connect" Call Result.

In this case, the Lead is immediately transmitted through the Meaningful Connect Call Result pathway by the Sales Cadence. This example shows the Lead being sent along the Not Interested Call Result path via the Sales Cadence.

Listener
Listener components in the Sales Cadence are waiting for an email from a Lead to engage them. That is, they always appear once an Email Action has been completed in the procedure.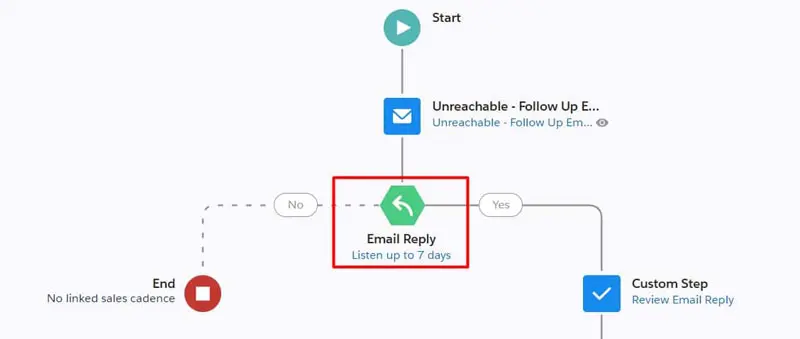 Listener components, like Call Results, direct the Lead a particular route in the Sales Cadence.
The Listener keeps track of three different forms of email responses: opens, hits, and replies to an email being sent High-Velocity Sales.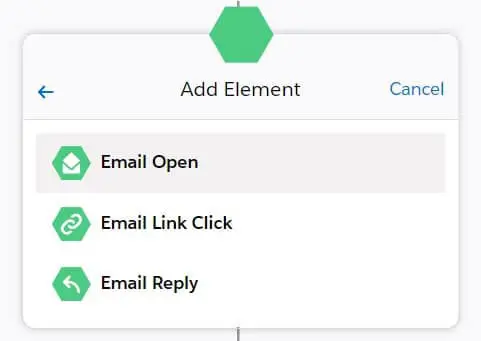 When using High-Velocity Sales to send an email, the device will immediately track levels of engagement over a given period. The Email Open Element in the sample below is listening for interaction for a maximum of 7 days.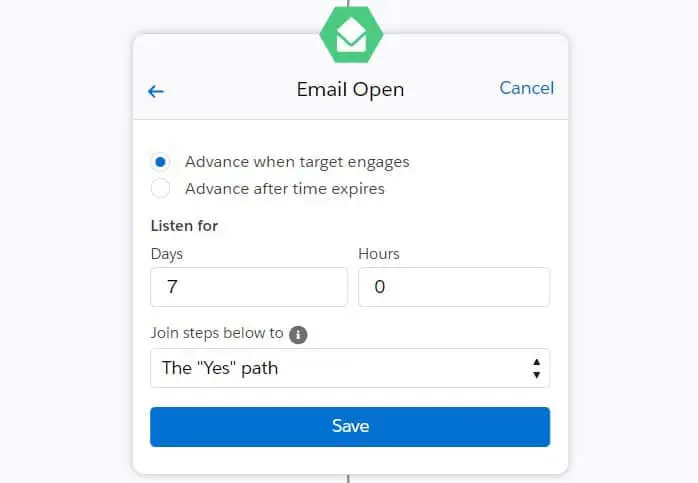 If a Lead responds to an email, it is immediately transferred down the right route in the Sales Cadence, perhaps immediately or after a certain length of listening time. It will also notify the Lead Holder of the interaction through the Work Queue's 'My Feed' area.
3 – Developing HVS (High-Velocity Sales) Assets
In their daily job, many Inside Sales group members will be using HVS resources like Email Templates, Call scripts, & Sales Cadences.
Each HVS functionality is explained in detail below.
Emails Templates
Pre-written emails are saved as email templates in High-Velocity Sales. As part of the sequence of actions, a Sales Cadence could send Email templates automatically. To achieve this, you should have HVS' Automated Email option turned on. Inside sales reps can, though, just use layouts to directly send emails to clients. Inside Sales, productivity is improved by using email templates. It also uses consistent high-quality and precise emails in the sales process.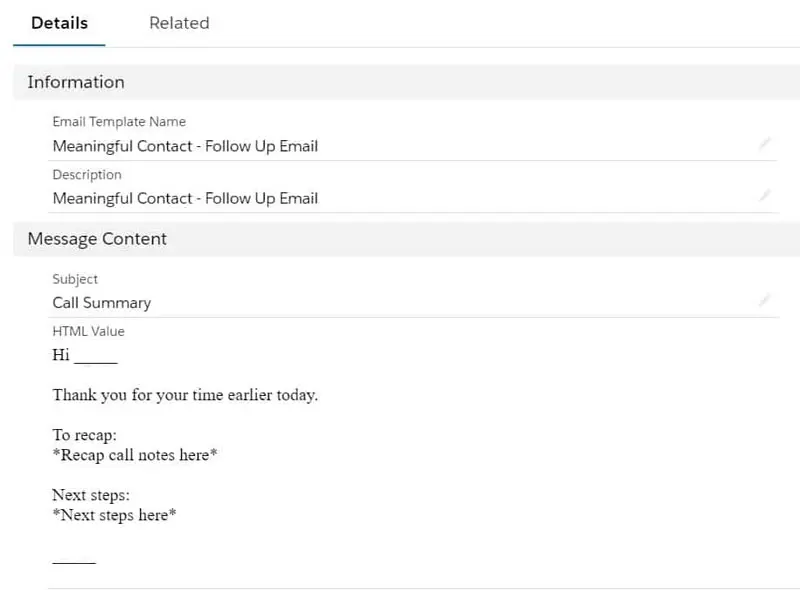 Call Scripts
In HVS, call scripts are remarks and texts which help the Inside Sales team communicate with customers and prospects. Call scripts assist in structuring the discourse and ensuring that it stays on track. Distinct sorts of calls can have different Call Scripts within HVS. Such scripts, for instance, frequently direct the Inside Sales team on what qualification inquiries to inquire about and what subjects to discuss.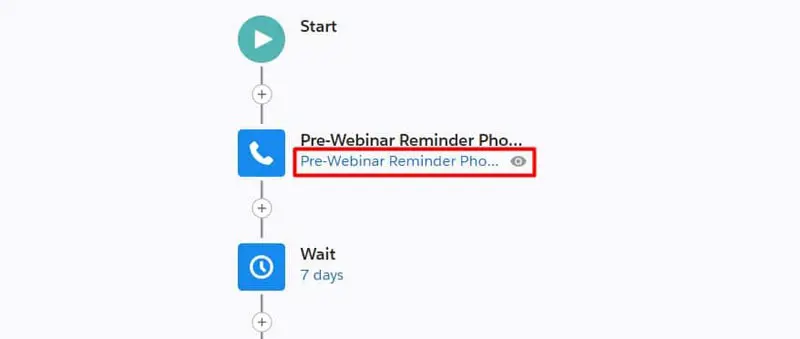 A sample of a Call Script within an HVS Sales Cadence is shown below.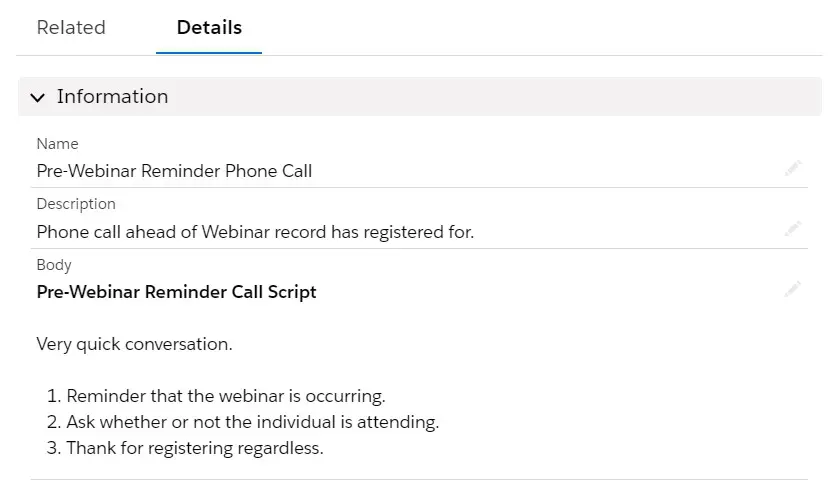 Call Scripts are simple to write. They include a name, a short outline, and the body to distinguish the Call Script in Sales Cadences. The major content is stored in the body, ready to manage the dialogue.
4 – Organizing High-Velocity Sales (HVS)
There are certain crucial first actions to take if you are new to High-Velocity Sales.
How to Make High-Velocity Sales Possible
The very first step is to acquire the necessary licenses. The HVS licenses and permission sets will be added to your Salesforce environment, providing customers complete access to the High-Velocity Sales suite.
HVS can be configured immediately inside the Salesforce setup through the Salesforce Setup menu after the Salesforce platform has authorization for the High-Velocity Sales license.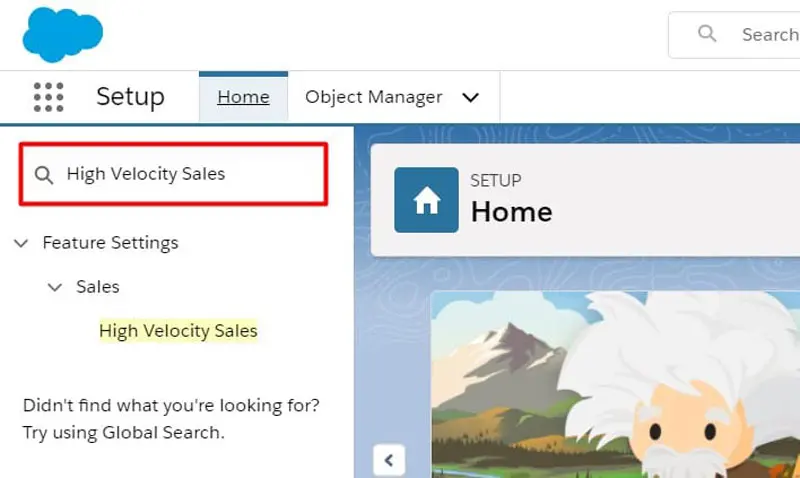 To get started, use the Setup Search bar to look for 'High-Velocity Sales' and then go to the High-Velocity Sales area.
Then, near the top of the screen, click the 'Set Up and Enable HVS' button.
Enabling HVS will also enable a few other functions on your machine by default. These are some of them:
Email Enhancement
Tracking your emails
Maintain sales representatives' email and calendars in synchronization with Salesforce using Einstein Activity Capture.
Emails that are sent automatically
Weekends should be avoided
There are indeed alternatives for email integrations and a dashboard for analytics. The majority of these options are turned on by default. You can, though, turn off some of them subsequently. For the time being, we advise keeping them all turned on.
Conclusion
Inside sales, sales development, including business development teams will benefit from Salesforce High-Velocity Sales, which combines mobile integration, artificial intelligence (AI), and a linked-to-specific view to eliminating the time-consuming process of moving between separate apps. Through this tutorial, you have seen how tools like sale cadences, activities, call scripts, email notifications, and Einstein Lead Scoring boost Inside Sales efficiency and effectiveness.