The constant emergence of technologically driven communication channels has left businesses with no choice but to adapt to their customer preferences and data needs.
It has become imperative for every brand to find a communication solution that fuels operational effectiveness and leads to highly personalized customer interactions.
In fact, with the rising customer expectations, now is the perfect time for incorporating a cloud-based virtual contact center in your business operations.
What are cloud contact centers?
A cloud contact center or a virtual contact center is a cloud-based contact center solution that streamlines different communication channels within a business. It helps you create a seamless omnichannel communication experience for your customers, thereby enhancing their journey with you.
From increased productivity to redefined customer experiences, a cloud contact center has various benefits that can meet every business's requirements and needs.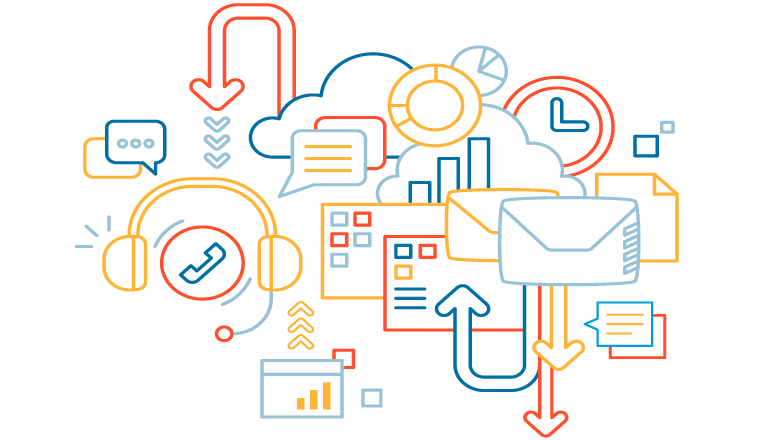 Some key advantages of installing cloud call center software are explained below:
A cloud contact center not only saves you the hassle of installing bulky hardware equipment but also eliminates the massive costs of maintaining it.
Hardware devices require regular check-ups by either on-site specialists or outsourced specialists from outside the office. However, cloud service providers automatically address such regulatory needs and ensure that your contact center adheres to all policies.
Furthermore, cloud-based solutions offer software updates that are both time-saving and automatic.
An internet-reliant call center system is also much cheaper since it uses VoIP technology instead of traditional line-based telephone systems. It charges on a data basis instead of a minute basis.
VoIP also brings additional features such as video messaging services and free calling globally.
Improved customer experience
According to Gartner, when it comes to making a purchase, about 64% of people consider customer experiences more important than price.
In simpler terms, the kind of CX a company offers plays a significant role in making or breaking the brand.
A cloud contact center offers a seamless experience across all communication channels in contrast to traditional call centers.
Cloud solutions such as a smart Interactive Voice Response (IVR) system allow customers to seek answers using self-service technology from anywhere around the world. However, IVR automatically routes the call to a relevant agent and offers instant solutions to the caller in case of a complex issue.
What's more, you can integrate your CRM with a multi-level IVR and get profound insights into your customer's past purchases, issues, demographics, and much more. This helps agents in tailoring conversations according to the customer's needs.
Some businesses tend to associate the shift to a cloud contact center with an increased data security risk.
However, the cloud ensures complete protection of your customer's information and valuable business data. Even during an unexpected crisis, you can continue your business operations with the support of a robust cloud data backup.
Additionally, a reliable cloud contact center provider stores all valuable data in secure tier-1 data centers, far from potential disruptions, with intense physical and network securities.
In a nutshell, a business can suffer huge losses if its data center gets corrupted or faces regular interruption. Therefore, invest in the resources that can guarantee the complete security of your business information.
The greatest advantage of having a cloud-based contact center?
You can scale your operations up and down from anywhere around the world according to your business requirements!
In fact, during peak seasons, festive times, or unexpected crises, you can expand or reduce your operations according to the varying volumes of incoming calls. You can hire more people globally or bring down the operational level depending upon the demand for your products or services.
Furthermore, integrating Artificial Intelligence (AI) and machine learning into your cloud contact centers can help you deliver seamless experiences to your customers.
Better employee experience
With customer questions and expectations fluctuating constantly, the level of unpredictability in contact centers is high.
However, you can use cloud solutions to understand your customers better and gain in-depth insights into their purchasing behavior. You can even record calls and train new joiners before interacting with your customers.
In addition, to call recordings, features like real-time analysis facilitate better access to customer preferences, which help your agents in personalizing customer conversations. It gives agents the confidence to interact with every caller as they are backed by virtually stored, verified information.
Lastly, when employees can carry out interactions without obstructions or cumbersome tools and devices, their job satisfaction automatically increases.
To sum up
Needless to say, cloud contact centers are the need of the hour. With increased data security and enhanced agent productivity, cloud contact centers help businesses keep up with the evolving customer expectations.
Moreover, opting for cloud-based technology is much simpler than it seems. All you have to seek is a reliable cloud service provider, and voila!
In a nutshell, they are a win-win for you and your consumers!
To know more about the cloud and to set up a seamless cloud contact center for your business, contact our solution experts.
Author Bio
Kritik Verma is a marketing enthusiast with a specialization in digital marketing. He is currently working at Servetel, leading cloud telephony providers offering cloud services like IVR, Toll-Free Number, and many more. He enjoys cycling, traveling, indies music, and reading about the latest digital marketing trends.